Technology and Revolution: Computers, Culture and the Internet
Fall 2001. Meets 2:30-3:45, Tu – Th, Keyes 103
Instructor: Thomas Haigh (home page) Email: thaigh@sas.upenn.edu
Miller Library 312, Phone x3535
Office Hours: Monday 10am to 12pm & Wednesday 1pm to 2:15 pm
This is a course offered in the Science, Technology and Society program of Colby College.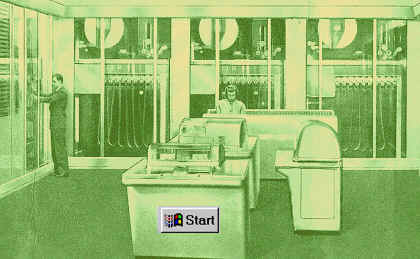 The Schedule Page includes list of readings and links full discussion questions and resources for each set.
What's New:
11/29 Paper topic and guidelines added, for voluntary class-participation makeup.
11/07 More information added to About page, including helpful summary of themes and topics for use when planning your papers and projects.
10/30 More information on group projects.
10/10 Website redesigned. Information added about the individual projects, including some general advice on writing your papers.
10/04 Having trouble keeping all the facts and dates sorted out? Wondering what happens when? Try the new on-line time-line and see how all the stuff you are reading about fits together.
09/08 Discussion questions and additional resources for the second session are now posted. In future, look for links to these by the entry for each week in the "week by week" view of the course.
09/06 Personal information form is now available from project page.